It's always the same question. Why the Green Bag?
Sometimes the world speaks to you when you are least expecting it.  
I had been working at a marketing firm as a Special Projects Manager when I was suddenly fired due to cutbacks in the company. Getting laid off was something I had never expected, and losing my job so abruptly was definitely not scribbled into my day planner.
Marketing had been my lifeline. It had helped to fuel my creativity while also paying the bills. My heart hurt when I lost that job, and retail therapy made it all better.
Kate Spade literally changed my life.
One day, I went shopping to quiet my qualms and indulge in some self-care. I walked into Kate Spade in downtown Charleston, SC and was poking around, browsing the newest collection, when I spotted it.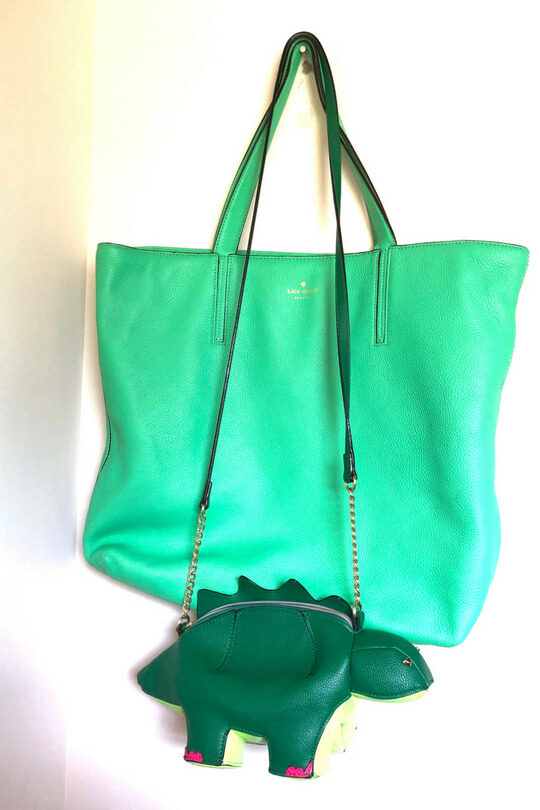 This gorgeous green bag was on a pedestal of its own, seemingly glowing in glory and singing sweet anthems of success.
I had to have it.
Its smooth and supple leather, strong handles, and sturdy shape were just stunning. As I inspected it, I realized it was large enough to hold all. the. things.
It was big enough to hold my laptop, pens, paper, business cards, resume, phone, keys, wallet, snacks, makeup and day planner. I probably could've fit a mini filing cabinet and a bottle of prosecco in there if I tried.
This bag was exactly what I had been searching for…and I hadn't even realized I was searching for something. My future came together in that one shining green moment, and it's all thanks to Kate Spade and her spectacular designs.
I knew then that I was going to build a marketing brand. It would be strong, sturdy, easy to work with, and able to do all. the. things.
I went home, bought the domain, whipped up the logo, built the website and ordered business cards. It was the easiest decision I've ever made.
Five years later, I still carry that same well-loved Kate Spade bag wherever I go. It has become a part of me as well as my brand. It is a daily reminder of where I've been and where I'm going. Despite the dings, knicks, scrapes and tears, it makes me feel confident. It makes me feel strong and successful, and it shows me that I still got it all in the bag.
RIP Kate Spade. You'll surely be missed.