This is not a drill! Don't have an SSL Certificate? Google is going to flag your website this year!

And it's because Google loves us.  Your fav search engine loves you so much, they want to wrap a warm fuzzy blanket around you and make you feel secure.
With its recent announcement, earlier this year, Google will flag all the unencrypted internet by the end of 2017.
This means if your website doesn't have an SSL certificate, it will display a 'Not Secure' in the URL bar.  Not sure if your site has an SSL cert?  Type in your site to a new tab, and see if a little (i) pops up.  Or see if your site says http://.  If so, not secure.  Secure sites have https:// – and that S is what really matters.
Whats an SSL Certificate?  I'm glad you asked!
SSL (Secure Sockets Layer) is the standard security technology for establishing an encrypted link between a web server and a browser. It ensures that all data passed between the web server and browsers remain private.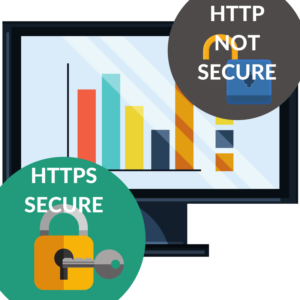 If you don't have the SSL certificate, a secure connection cannot be established.  That means all of your company information will not be digitally connected to a cryptographic key.
It has the following info:
Name of the holder
Serial number and expiration date
Copy of the certificate holder's public key
Digital Signature of the certificate-issuing authority
Before Google flags your website, secure it today with SSL Certificates.  Don't know how?  We've got you secure in our Green Bag.  Give us a call at 843-860-1944 or [email protected]
WANT TO GIVE YOUR SITE A CONFIDENCE BOOST?  Sign up for our Maintenance Plans today to secure your site, prevent it from hacks, back it up and get some website updates!  Learn more here.